It is hard to know where to start with regards to the beginning of this section which is to detail a brief history of the ufo phenomenon. That is because we don't actually know when the ufo phenomenon actually started. If you look back through ancient texts from various ancient civilisations there are a number of examples of strange aerial phenomena which today we would regard as UFOs. So I have decided to start with modern ufo reported sightings over the last century starting with the foo fighters.
If you would like to know more about the ancient UFO sightings then please follow the link below which will give details of the ancient astronaut theories.
http://en.wikipedia.org/wiki/Ancient_astronauts
It is also not possible to include the whole history of the ufo phenomenon over the last century as the subject is so vast. I have therefore decided to include what i think are the main events which have happend over the last 100 years. Some people will agree with me and some people will not, this is my own personal view only. As you will see below i have included major events known the world over like the Roswell incident and events more closer to home like the Berwyn Mountain incident.
Betty and Barny Hill Abduction

Travis Walton Abduction

The Rendlesham Forest Incident

The Belgian UFO Wave

The phoenix Lights
The Foo Fighters 1940's +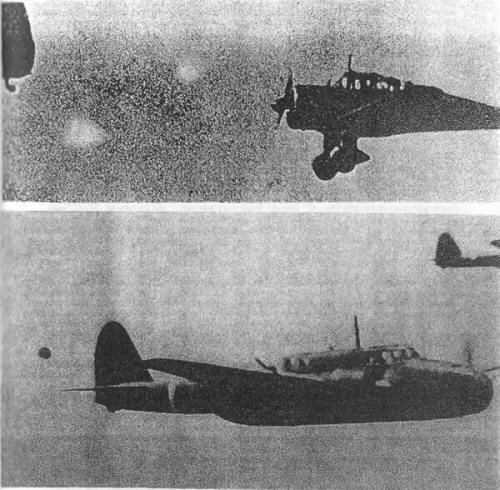 The first sightings occurred in November 1944, when pilots flying over Germany by night reported seeing fast-moving round glowing objects following their aircraft. The objects were variously described as fiery, and glowing red, white, or orange. Some pilots described them as resembling Christmas tree lights and reported that they seemed to toy with the aircraft, making wild turns before simply vanishing. Pilots and aircrew reported that the objects flew formation with their aircraft and behaved as if under intelligent control, but never displayed hostile behavior. However, they could not be outmaneuvered or shot down. The phenomenon was so widespread that the lights earned a name - in the European Theater of Operations they were often called "kraut fireballs" but for the most part called "foo-fighters". The military took the sightings seriously, suspecting that the mysterious sightings might be secret German weapons, but further investigation revealed that German and Japanese pilots had reported similar sightings.
In its 15th January 1945 edition Time magazine carried a story entitled "Foo-Fighter", in which it reported that the "balls of fire" had been following USAAF night fighters for over a month, and that the pilots had named it the "foo-fighter". According to Time, descriptions of the phenomena varied, but the pilots agreed that the mysterious lights followed their aircraft closely at high speed. Some scientists at the time rationalized the sightings as an illusion probably caused by afterimages of dazzle caused by flak bursts, while others suggested St. Elmo's Fire as an explanation.
The "balls of fire" phenomenon reported from the Pacific Theater of Operations differed somewhat from the foo fighters reported from Europe; the "ball of fire" resembled a large burning sphere which "just hung in the sky", though it was reported to sometimes follow aircraft. On one occasion, the gunner of a B29 aircraft managed to hit one with gunfire, causing it to break up into several large pieces which fell on buildings below and set them on fire. As with the European foo fighters, no aircraft was reported as having been attacked by a "ball of fire"
The postwar Robertson Panel cited foo fighter reports, noting that their behavior did not appear to be threatening, and mentioned possible explanations, for instance that they were electrostatic phenomena similar to St Elmos fire, electromagnetic phenomena, or simply reflections of light from ice crystals. The Panel's report suggested that "If the term "flying saucers" had been popular in 1943-1945, these objects would have been so labeled."
Sightings
Foo fighters were reported on many occasions from around the world; a few examples are noted below.
Sighting from September 1941 in the Indian Ocean was similar to some later Foo Fighter reports. From the deck of the S.S. Pu³aski (a Polish merchant vessel transporting British troops), two sailors reported a "strange globe glowing with greenish light, about half the size of the full moon as it appears to us."They alerted a British officer, who watched the object's movements with them for over an hour.
Charles R. Bastien of the Eighth Air Force reported one of the first encounters with foo fighters over the Belgium/Holland area; he described them as "two fog lights flying at high rates of speed that could change direction rapidly". During debriefing, his intelligence officer told him that two RAF night fighters had reported the same thing, and it was later reported in British newspapers.
Career U.S. Air Force pilot Duane Adams often related that he had witnessed two occurrences of a bright light which paced his aircraft for about half an hour and then rapidly ascended into the sky. Both incidents occurred at night, both over the South Pacific, and both were witnessed by the entire aircraft crew. The first sighting occurred shortly after the end of World War II while Adams piloted a B-25 bomber. The second sighting occurred in the early 1960s when Adams was piloting a KC-135 tanker.
Kenneth Arnold Sighting The Birth of The Flying Saurcer June 24th 1947
Source: Loy Lawhon, About.com Original Sourse
Funny how your life can get turned upside down just because you see something. Kenneth Arnold's story is the story of a pretty straight guy. He was an Eagle Scout when he was a teen-ager. He worked for the Red Cross. He was an All-State football player in high school, with hopes of being a college star until a knee injury cut his football career short.

After college, Arnold became a salesman and learned to fly, combining the two by flying from small town to small town selling fire control equipment, eventually owning the Great Western Fire Control Supply Company. He was a member of the Sheriff's "aerial posse"of Ada County, Idaho, he was a relief U.S. Marshall, and he sometimes flew prisoners to the Federal Penitentiary. Flying his light plane, a Callair, was the basis of his livelihood.

In other words, he was the perfect UFO witness: a solid citizen, honest and trustworthy, married, with two daughters.

On June 24th, 1947, he was returning home from a business trip when he made a detour into the Yakima, Washington area to help in an aerial search for a missing C-46 marine transport plane that was believed to have gone down in the area.

At around 3:00 in the afternoon, he was flying at about 9,000 feet, near Mount Rainier, when a flash of light caught his eye. He turned and saw a procession of nine very strange objects flying from north to south in front of his plane. They were flat and rather heel-shaped, very shiny, and they moved erratically, like a "saucer would if you skipped it across water." You can see Arnold's drawing of what he saw here. Arnold estimated their size at about two-thirds that of a DC-4, and he calculated their speed at over 1500 mph by timing their travel between two mountain peaks of known distance.

When he arrived at Yakima, Washington, Arnold told several other pilots about his sighting. The consensus among them was that it was some type of military "secret weapon". However, Arnold would later find that the U.S. military was as mystified by the objects as he himself was.

In Pendleton, Oregon, Arnold went to make a report to the FBI, but the local office was closed, so he talked to the editor of the East Oregonian newspaper instead and it was the editor who put the story on the newswires. Because of Arnold's background and reliability as a witness, the story got wide circulation. Here's Arnold's report in his own words.

What did Arnold see? Skeptics said everything from clouds to blowing snow on the mountain, to droplets of water on his airplane window. Here Martin Kottmeter shoots down some of the early theories of what Arnold saw. More recent explanations include Phil Klass' meteorite fragments and James Easton's white pelicans.
The Roswell Incident July 1947
Source http://www.roswellufomuseum.com/incident.htm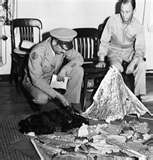 In the summer of 1947, there were a number of UFO sightings in the United States. Sometime during the first week of July 1947, something crashed near Roswell.

W.W. "Mack" Brazel, a New Mexico rancher, saddled up his horse and rode out with the son of neighbors Floyd and Loretta Proctor, to check on the sheep after a fierce thunderstorm the night before. As they rode along, Brazel began to notice unusual pieces of what seemed to be metal debris, scattered over a large area. Upon further inspection, Brazel saw that a shallow trench, several hundred feet long, had been gouged into the land.

Brazel was struck by the unusual properties of the debris, and after dragging a large piece of it to a shed, he took some of it over to show the Proctors in 1947. Mrs. Proctor moved from the ranch into a home nearer to town, but she remembers Mack showing up with strange material.

The Proctors told Brazel that he might be holding wreckage from a UFO or a government project, and that he should report the incident to the sheriff. A day or two later, Mack drove into Roswell where he reported the incident to Sheriff George Wilcox, who reported it to Intelligence Officer, Major Jesse Marcel of the 509 Bomb Group, and for days thereafter, the debris site was closed while the wreckage was cleared.

On July 8th, 1947, a press release stating that the wreckage of a crashed disk had been recovered was issued by Lt. Walter G. Haut, Public Information Officer at RAAB under order from the Commander of the 509th Bomb Group at Roswell, Col. William Blanchard.

Hours later the first press release was rescinded and the second press release stated that the 509th Bomb Group had mistakenly identified a weather balloon as wreckage of a flying saucer was issued July 9th, 1947.
Meanwhile, back in Roswell, Glenn Dennis, a young mortician working at the Ballard Funeral Home, received some curious calls one afternoon from the morgue at the air field. It seems the Mortuary Officer needed to get a hold of some small hermetically sealed coffins,and wanted information about how to preserve bodies that had been exposed to the elements for a few days, without contaminating the tissue.

Dennis drove out to the base hospital later that evening where he saw large pieces of wreckage with strange engravings on one of the pieces sticking out of the back of a military ambulance. Upon entering the hospital he started to visit with a nurse he knew, when suddenly he was threatened by military police and forced to leave.

The next day, Dennis met with the nurse. She told him about the bodies and drew pictures of them on a prescription pad. Within a few days she was transferred to England, her whereabouts remain unknown.
According to the research of Don Schmitt and Kevin Randle, in their book, A History of UFO Crashes, from which the following account of the Roswell Incident , in part, is based, the military had been watching an unidentified flying object on radar for four days in southern New Mexico. On the night of July 4, 1947, radar indicated that the object was down around thirty to forty miles northwest of Roswell.

Eye witness William Woody, who lived east of Roswell, remembered being outside with his father the night of July 4, 1947, when he saw a brilliant object plunge to the ground. A couple of days later when Woody and his father tried to locate the area of the crash, they were stopped by military personnel, who had cordoned off the area.

Acting on the call from Sheriff Wilcox, Intelligence Officer, Major Jesse Marcel was sent by Col. William Blanchard, to investigate Mack Brazel's story.

Marcel and Senior Counter Intelligence Corps (CIC) agent, Captain Sheridan Cavitt, followed the rancher off-road to his place. They spent the night there and Marcel inspected a large piece of debris that Brazel had dragged from the pasture.

Monday morning, July 7th, 1947, Major Jesse Marcel took his first step onto the debris field. Marcel would remark later that "something... must have exploded above the ground and fell." As Brazel, Cavitt and Marcel inspected the field, Marcel was able to "determine which direction it came from, and which direction it was heading. It was in the pattern... you could tell where it started out and where it ended by how it was thinned out..."

According to Marcel, the debris was "strewn over a wide area, I guess maybe three-quarters of a mile long and a few hundred feet wide." Scattered in the debris were small bits of metal that Marcel held a cigarette lighter to, to see if it would burn. "I lit the cigarette lighter to some of this stuff and it didn't burn", he said.

Along with the metal, Marcel described weightless I-beam-like structures that were 3/8" x 1/4", none of them very long, that would neither bend nor break. Some of these I-beams had indecipherable characters along the length, in two colors. Marcel also described metal debris the thickness of tin foil that was indestructible.

After gathering enough debris to fill his staff car, Maj. Marcel decided to stop by his home on the way back to the base so that he could show his family the unusual debris. He'd never seen anything quite like it. "I didn't know what we were picking up. I still don't know what it was...it could not have been part of an aircraft, not part of any kind of weather balloon or experimental balloon...I've seen rockets... sent up at the White Sands Testing Grounds. It definitely was not part of an aircraft or missile or rocket."

Under hypnosis conducted by Dr. John Watkins in May of 1990, Jesse Marcel Jr. remembered being awakened by his father that night and following him outside to help carry in a large box filled with debris. Once inside, they emptied the contents of the debris onto the kitchen floor.

Jesse Jr. described the lead foil and I-beams. Under hypnosis, he recalled the writing on the I-beams as "Purple. Strange. Never saw anything like it...Different geometric shapes, leaves and circles." Under questioning, Jesse Jr. said the symbols were shiny purple and they were small. There were many separate figures. This too, under hypnosis: [Marcel Sr. was saying it was a flying saucer] "I ask him what a flying saucer is. I don't know what a flying saucer is...It's a ship. [Dad's] excited!"
At 11:00 A.M Walter Haut, public relations officer, finished the press release he'd been ordered to write, and gave copies of the release to the two radio stations and both of the newspapers. By 2:26 P.M., the story was out on the AP Wire:

"The Army Air Forces here today announced a flying disk had been found"

As calls began to pour into the base from all over the world, Lt. Robert Shirkey watched as MPs carried loaded wreckage onto a C-54 from the First Transport Unit.

To get a better look, Shirkey stepped around Col. Blanchard, who was irritated with all of the calls coming into the base. Blanchard decided to travel out to the debris field and left instructions that he'd gone on leave.

On the morning of July 8th, Marcel reported what he'd found to Col. Blanchard, showing him pieces of the wreckage, none of which looked like anything Blanchard had ever seen. Blanchard then sent Marcel to Carswell [Fort Worth Army Air Field] to see General Ramey, Commanding Officer of the Eighth Air Force.

Marcel stated years later to Walter Haut that he'd taken some of the debris into Ramey's office to show him what had been found. The material was displayed on Ramey's desk for the general when he returned.
Upon his return, General Ramey wanted to see the exact location of the debris field, so he and Marcel went to the map room down the hall - but when they returned, the wreckage that had been placed on the desk was gone and a weather balloon was spread out on the floor. Major Charles A. Cashon took the now-famous photo of Marcel with the weather balloon, in General Ramey's office.
It was then reported that General Ramey recognized the remains as part of a weather balloon. Brigadier General Thomas DuBose, the chief of staff of the Eighth Air Force said, "[It] was a cover story. The whole balloon part of it. That was the part of the story we were told to give to the public and news and that was it."

The military tried to convince the news media from that day forward that the object found near Roswell was nothing more than a weather balloon.

July 9, as reports went out that the crashed object was actually a weather balloon, clean-up crews were busily clearing the debris. Bud Payne, a rancher at Corona, was trying to round up a stray when he was spotted by military and carried off the Foster ranch, and Jud Roberts along with Walt Whitmore were turned away as they approached the debris field.

As the wreckage was brought to the base, it was crated and stored in a hangar.

Back in town, Walt Whitmore and Lyman Strickland saw their friend, Mack Brazel, who was being escorted to the Roswell Daily Record by three military officers. He ignored Whitmore and Strickland, which was not at all like Mack, and once he got to the Roswell Daily Record offices, he changed his story. He now claimed to have found the debris on June 14th. Brazel also mentioned that he'd found weather observation devices on two other occasions, but what he found this time was no weather balloon.

Later that afternoon, an officer from the base retrieved all of the copies of Haut's press release from the radio stations and newspaper offices.
The Las Vegas Review Journal, along with dozens of other newspapers, carried the AP story: "Reports of flying saucers whizzing through the sky fell off sharply today as the army and the navy began a concentrated campaign to stop the rumors." The story also reported that AAF Headquarters in Washington had "delivered a blistering rebuke to officers at Roswell."
Betty and Barny Hill - The Birth of Alien Abductions September 19th 1961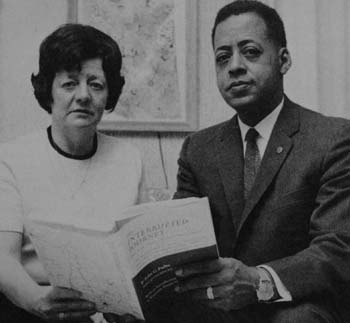 Background
The Hills lived in Portsmouth, New Hampshire. Barney (1922–1969) was employed by the U.S. Postal Service, while Betty (1919–2004) was a social worker. Active in a Unitarian congregation, the Hills were also members of the NAACP and community leaders, and Barney sat on a local board of the U.S. Civil Rights Commission.
They were a mixed-race couple at the time when it was particularly unusual in the U.S. Barney was African-American, and Betty was Caucasian.
The UFO encounter
According to a variety of reports given by the Hills, the alleged UFO sighting happened on September 19th, 1961, at around 10:30 p.m. The Hills were driving back to Portsmouth from a vacation in Niagara Falls and Montreal, Quebec, Canada. There were only a few other cars on the road as they made their way home to New Hampshire's seacoast. Just south of Lancaster, New Hampshire, Betty claimed to have observed a bright point of light in the sky that moved from below the moon and the planet Jupiter, upward to the west of the moon. While Barney navigated U.S. Route 3, Betty reasoned that she was observing a falling star, only it moved upward, like a plane or a satellite. Since it moved erratically and grew bigger and brighter, Betty urged Barney to stop the car for a closer look, as well as to walk their dog, Delsey. Barney stopped at a scenic picnic area just south of Twin Mountain. Worried about the presence of bears, Barney retrieved a pistol that he had concealed in the trunk of the car.
Betty, through binoculars, observed an "odd shaped" craft flashing multicolored lights travel across the face of the moon. Because her sister had confided to her about having a flying saucer sighting several years earlier, Betty thought it may be what she was observing. Through binoculars Barney observed what he reasoned was a commercial airliner traveling toward Vermont on its way to Montreal. However, he soon changed his mind, because without looking as if it had turned, the craft rapidly descended in his direction. This observation caused Barney to realize, "this object that was a plane was not a plane." He quickly returned to the car and drove toward Franconia Notch, a narrow, mountainous stretch of the road.
The Hills claimed that they continued driving on the isolated road, moving very slowly through Franconia Notch in order to observe the object as it came even closer. At one point the object passed above a restaurant and signal tower on top of Cannon Mountain. It passed over the mountain and came out near the 48' profile of the Old Man of the Mountain (New Hampshire's State Symbol). Betty testified that it was at least one and a half times the length of the granite profile and seemed to be rotating. The couple watched as the silent, lighted craft moved erratically and bounced back and forth in the night sky. As they drove along Route 3 through Franconia Notch, they stated that it seemed to be playing a game of cat and mouse with the couple.
Approximately one mile south of Indian Head, they said, the object rapidly descended toward their vehicle causing Barney to stop directly in the middle of the highway. The huge, silent craft hovered approximately 80–100 feet above the Hills' 1957 Chevrolet Bel Air and filled the entire field of the windshield. It reminded Barney of a huge pancake. Carrying his pistol in his pocket, he stepped away from the vehicle and moved closer to the object. Using the binoculars, Barney claimed to have seen about 8 to 11 humanoid figures who were peering out of the craft's windows, seeming to look at him. In unison, all but one figure moved to what appeared to be a panel on the rear wall of the hallway that encircled the front portion of the craft. The one remaining figure continued to look at Barney and communicated a message telling him to "stay where you are and keep looking." Red lights on what appeared to be bat-wing fins began to telescope out of the sides of the craft and a long structure descended from the bottom of the craft. The silent craft approached to what Barney estimated was within 50–80 feet overhead and 300 feet away from him. On October 21, 1961, Barney reported to NICAP Investigator Walter Webb, that the "beings were somehow not human".
Barney tore the binoculars away from his eyes and ran back to his car. In a near hysterical state, he told Betty, "They're going to capture us!" He saw the object again shift its location to directly above the vehicle. He drove away at high speed, telling Betty to look for the object. She rolled down the window and looked up, but saw only darkness above them, even though it was a bright, starry night.
Almost immediately the Hills heard a rhythmic series of beeping or buzzing sounds which they said seemed to bounce off the trunk of their vehicle. The car vibrated and a tingling sensation passed through the Hills' bodies. Betty touched the metal on the passenger door expecting to feel an electric shock, but felt only the vibration. The Hills said that at this point in time they experienced the onset of an altered state of consciousness that left their minds dulled. A second series of codelike beeping or buzzing sounds returned the couple to full consciousness. They found that they had traveled nearly 35 miles south but had only vague, spotty memories of this section of road. They recalled making a sudden unplanned turn, encountering a roadblock, and observing a fiery orb in the road.
Immediate aftermath
Arriving home at about dawn, the Hills assert that they had some odd sensations and impulses they could not readily explain: Betty insisted that their luggage be kept near the back door rather than in the main part of the house. Their watches would never run again. Barney noted that the leather strap for the binoculars was torn, though he could not recall it tearing. The toes of his best dress shoes were inexplicably scraped. Barney says he was compelled to examine his genitals in the bathroom, though he found nothing unusual. They took long showers to remove possible contamination and each drew a picture of what they had observed. Their drawings were strikingly similar.
Perplexed, the Hills say they tried to reconstruct the chronology of events as they witnessed the UFO and drove home. But immediately after they heard the buzzing sounds their memories became incomplete and fragmented. They vaguely recalled a luminous moon shape sitting on the road. Barney recalled saying "Oh no, not again". Betty thought Barney had taken a sharp left turn off Route 3.
After sleeping for a few hours, Betty awoke and placed the shoes and clothing she had worn during the drive into her closet, observing that the dress was torn at the hem, zipper and lining. Later, when she retrieved the items from her closet, she noted a pinkish powder on her dress. She hung the dress on her clothesline and the pink powder blew away. But the dress was irreparably damaged. She threw it away, but then changed her mind, retrieving the dress and hanging it in her closet. Over the years, five laboratories have conducted chemical and forensic analyses on the dress.
There were shiny, concentric circles on their car's trunk that had not been there the previous day. Betty and Barney experimented with a compass, noting that when they moved it close to the spots, the needle would whirl rapidly. But when they moved it a few inches away from the shiny spots, it would drop down.
Initial report to the U.S. Air Force and NICAP
On September 21st, Betty telephoned Pease Air Force Base to report their UFO encounter, though for fear of being labeled eccentric, she withheld some of the details. On September 22nd, Major Paul W. Henderson telephoned the Hills for a more detailed interview. Henderson's report, dated September 26th, determined that the Hills had probably misidentified the planet Jupiter. (This was later changed to "optical condition", "inversion" and "insufficient data.") (Report 100-1-61, Air Intelligence Information Record) His report was forwarded to Project Blue Book, the U.S. Air Force's UFO research project.
Within days of the encounter, Betty borrowed a UFO book from a local library. It had been written by retired Marine Corps Major Donald E. Keyhoe, who was also the head of NICAP, a civilian UFO research group. On September 26, Betty wrote to Keyhoe. She related the full story, including the details about the humanoid figures that Barney had observed through binoculars. Betty wrote that she and Barney were considering hypnosis to help recall what had happened. Her letter was eventually passed on to Walter N. Webb, a Boston astronomer and NICAP member.
Webb met with the Hills on October 21st, 1961. In a six-hour interview, the Hills related all they could remember of the UFO encounter. Barney asserted that he had developed a sort of "mental block" and that he suspected there were some portions of the event that he did not wish to remember. He described in detail all that he could remember about the craft and the appearance of the "strangely not human" figures aboard the craft. Webb stated that "they were telling the truth and the incident probably occurred exactly as reported except for some minor uncertainties and technicalities that must be tolerated in any such observations where human judgment is involved (i.e. exact time and length of visibility, apparent sizes of object and occupants, distance and height of object, etc)."
Betty's dreams
Ten days after the UFO encounter, Betty began having a series of vivid dreams. They continued for five successive nights. Never in her memory had she recalled dreams in such detail and intensity. But they stopped abruptly after five nights and never returned again. They occupied her thoughts during the day. When she finally did mention them to Barney, he was sympathetic, but not too concerned, and the matter was dropped. Betty did not mention them to Barney again.
In November 1961, Betty began writing down the details of her nightmarish dreams. In one dream, she and Barney encountered a roadblock and men who surrounded their car. She lost consciousness but struggled to regain it. She then realized that she was being forced by two small men to walk in a forest in the nighttime, and of seeing Barney walking behind her, though when she called to him, he seemed to be in a trance or sleepwalking. The men stood about five feet to five feet four inches tall, and wore matching uniforms, with caps similar to those worn by military cadets. They appeared nearly human with black hair, long noses, lips and ears, but had a grayish pallor and bluish lips.
In the dreams, Betty, Barney, and the men walked up a ramp into a disc-shaped craft of metallic appearance. Once inside, Barney and Betty were separated. She protested, and was told by a man she called "the leader" that if she and Barney were examined together, it would take much longer to conduct the exams. She and Barney were then taken to separate rooms.
Betty then dreamt that a new man, similar to the others, entered to conduct her exam with the leader. Betty called this new man "the examiner" and said he had a pleasant, calm manner. Though the leader and the examiner spoke to her in English, the examiner's command of the language seemed imperfect and she had difficulty understanding him.
The examiner told Betty that he would conduct a few tests to note the differences between humans and the craft's inhabitants. He seated her on a chair, and a bright light was shone on her. The man cut off a lock of Betty's hair. He examined her eyes, ears, mouth, teeth, throat and hands. He saved trimmings from her fingernails. After examining her legs and feet, the man then used a dull knife, similar to a letter opener to scrape some of her skin onto what resembled cellophane. He then tested her nervous system and he thrust the needle into her navel, which caused Betty agonizing pain. But the leader waved his hand in front of her eyes and the pain vanished.
The examiner left the room and Betty engaged in conversation with the "leader". She picked up a book with rows of strange symbols that the "leader" said she could take home with her. She also asked where he was from, and he pulled down an instructional map dotted with stars.
In Betty's dream account, the men began escorting the Hills from the ship when a disagreement broke out. The leader then informed Betty that she couldn't keep the book, stating that they had decided that the other men did not want her to even remember the encounter. Betty insisted that no matter what they did to her memory, she would one day recall the events.
She and Barney were taken to their car, where the leader suggested that they wait to watch the craft's departure. They did so, then resumed their drive.
Missing time
On November 25th, 1961, the Hills were again interviewed at length by NICAP members, this time C.D. Jackson and Robert E. Hohman.
Having read Webb's initial report, Jackson and Hohman had many questions for the Hills. One of their main questions was about the length of the trip. Neither Webb nor the Hills had noted that, though the drive should have taken about four hours, they did not arrive at home until seven hours after their departure. When Hohman and Jackson noted this discrepancy to the Hills, the couple had no explanation (a frequently reported circumstance in alleged alien abduction cases that some have called "missing time"). As Clark writes, despite "all their efforts the Hills could recall almost nothing of the 35 miles between Indian Head and Ashland. Although Betty's recall was somewhat fuller than Barney's, both were able to recall an image of a fiery orb sitting on the ground. Betty and Barney reasoned that it must have been the moon, but Hohman and Jackson informed them that the moon had set earlier in the evening.
The subject of hypnosis came up. Perhaps hypnosis could unlock the missing memories. Barney was apprehensive about hypnosis, but thought it might help Betty put to rest what Barney described as the 'nonsense' about her dreams."
By February 1962, the Hills were making frequent weekend drives to the White Mountains, hoping that revisiting the site might spark more memories. They were unsuccessful in trying to locate the site where they observed a fiery orb sitting in the road. However, they were able to eliminate several possible routes. (They found the "capture" site on Labor Day weekend in 1965.)
Private disclosure
On November 23rd, 1962, the Hills attended a meeting at the parsonage of their church where the invited guest speaker was Captain Ben H. Swett of the U.S. Air Force, who had recently published a book of his poetry. After he read selections of his poetry, the pastor asked him to discuss his personal interest in hypnosis. After the meeting broke up, the Hills approached Captain Swett privately and told him what they could remember of their strange encounter. He was particularly interested in the "missing time" of the Hills' account. The Hills asked Swett if he would hypnotize them to recover their memories, but Swett said he was not qualified to do that and cautioned them against going to an amateur hypnotist, such as himself.
First public disclosure
On March 3rd, 1963, the Hills first publicly discussed the UFO encounter with a group at their church.
On September 7th, 1963, Captain Swett gave a formal lecture on hypnosis to a meeting at the Unitarian Church. After the lecture, the Hills told him that Barney was going to a psychiatrist, Dr. Stephens, whom he liked and trusted. Captain Swett suggested that Barney ask Dr. Stephens about the use of hypnosis in his case.
When Barney next met with Dr. Stephens, he asked about hypnosis. Stephens referred the Hills to Dr. Benjamin Simon of Boston.
On November 3rd, 1963, the Hills spoke before an amateur UFO study group, the Two State UFO Study Group, in Quincy Center, Massachusetts.
The Hills first met Dr. Simon on December 14th, 1963. Early in their discussions, Simon determined that the UFO encounter was causing Barney far more worry and anxiety than Mr. Hill was willing to admit. Though Simon dismissed the popular extraterrestrial hypothesis as impossible, it seemed obvious to him that the Hills genuinely thought they had witnessed a UFO with human-like occupants. Simon hoped to uncover more about the experience through hypnosis.
Dr. Simon's hypnosis sessions
Simon began hypnotizing the Hills on January 4th, 1964. He hypnotized Betty and Barney several times each, and the sessions lasted until June 6th, 1964. Simon conducted the sessions on Barney and Betty separately, so they could not overhear one another's recollections. At the end of each session he reinstated amnesia.
Barney's sessions
Simon hypnotized Barney first. His recall of witnessing non-human figures was quite emotional, punctuated with expressions of fear, emotional outbursts and incredulity. Barney said that, due to his fear, he kept his eyes closed for much of the abduction and physical examination. Based on these early responses, Simon told Barney that he would not remember the hypnosis sessions until he was certain he could remember them without being further traumatized.
Under hypnosis, (as was consistent with his conscious recall), Barney reported that the binocular strap had broken when he ran from the UFO back to his car. He recalled driving the car away from the UFO, but that afterwards he felt irresistibly compelled to pull off the road, and drive into the woods. He eventually sighted six men standing in the dirt road. The car stalled and three of the men approached the car. They told Barney to not fear them. He was still anxious, however, and he reported that the leader told Barney to close his eyes. While hypnotized, Barney said, "I felt like the eyes had pushed into my eyes."
Barney described the creatures as generally similar to Betty's hypnotic, not dream recollection. The creatures often stared into his eyes, said Barney, with a terrifying, mesmerizing effect. Under hypnosis, Barney said things like, "Oh, those eyes. They're there in my brain" (Hypnosis session #1)and I was told to close my eyes because I saw two eyes coming close to mine, and I felt like the eyes had pushed into my eyes." (Hypnosis session #2) and "All I see are these eyes... I'm not even afraid that they're not connected to a body. They're just there. They're just up close to me, pressing against my eyes."
Barney related that he and Betty were taken onto the disc-shaped craft, where they were separated. He was escorted to a room by three of the men and told to lie on a small rectangular exam table. Unlike Betty, Barney's narrative of the exam was fragmented, and he continued to keep his eyes closed for most of the exam. A cup-like device was placed over his genitals. He did not experience an orgasm though Barney thought that a sperm sample had been taken. The men scraped his skin, and peered in his ears and mouth. A tube or cylinder was inserted in his anus. Someone felt his spine, and seemed to be counting his vertebrae.
While Betty reported extended conversations with the creatures in English, Barney said that he heard them speaking in a mumbling language he did not understand. Betty also mentioned this detail. The few times they communicated with him, Barney said it seemed to be "thought transference"; at that time, he was unfamiliar with the word "telepathy". Both Betty and Barney stated that they hadn't observed the creature's mouths moving when they communicated in English with them.
He recalled being escorted from the ship, and taken to his car, which was now near the road rather than in the woods. In a daze, he watched the ship leave. Barney remembered a light appearing on the road, and he said, "Oh no, not again." He recalled Betty's speculation that the light might have been the moon, though the moon had in fact set several hours earlier. He also stated that he attempted to produce the code-like buzzing sounds that seemed to strike the car's trunk a second time by driving from side to side and stopping and starting the vehicle. His attempt was not successful.
Betty's sessions
Under hypnosis, Betty's account was very similar to the events of her five dreams about the UFO abduction, but there were also notable differences. Under hypnosis, her capture and release were different. The technology on the craft was different. The short men had a significantly different physical appearance than the ones in her dreams. The sequential order of the abduction event was also different than in Betty's dream account. She filled in many details that were not in her dreams and contradicted some of her dream content. It is interesting that Barney's and Betty's memories in hypnotic regression were consistent but contradicted some of the information in Betty's dreams.
Betty exhibited considerable emotional distress during her capture and examination. Dr. Simon ended one session early because tears were flowing down her cheeks and she was in considerable agony.
Dr. Simon gave Betty the post hypnotic suggestion that she could sketch a copy of the "star map" that she later described as a three dimensional projection similar to a hologram. She hesitated, thinking she would be unable to accurately depict the three-dimensional quality of the map she says she saw on the ship. Eventually, however, she did what Simon suggested. Although she said the map had many stars, she drew only those that stood out in her memory. Her map consisted of twelve prominent stars connected by lines and three lesser ones that formed a distinctive triangle. (see below) She said she was told the stars connected by solid lines formed "trade routes", whereas dashed lines were to less-traveled stars.
Dr. Simon's conclusions
After extensive hypnosis sessions, Dr. Simon concluded that Barney's recall of the UFO encounter was a fantasy inspired by Betty's dreams. Though Simon admitted this hypothesis did not explain every aspect of the experience, he thought it was the most plausible and consistent explanation. Barney rejected this idea, noting that while their memories were in some regards interlocking, there were also portions of both their narratives that were unique to each. Barney was now ready to accept that they had been abducted by the occupants of a UFO, though he never embraced it as fully as Betty did.
Though the Hills and Simon disagreed about the nature of the case, they all concurred that the hypnosis sessions were effective: the Hills were no longer tormented by anxiety about the UFO encounter.
Afterwards, Simon wrote an article about the Hills for the journal Psychiatric Opinion, explaining his conclusions that the case was a singular psychological aberration.
Publicity after the hypnosis sessions
The Hills went back to their regular lives. They were willing to discuss the UFO encounter with friends, family and the occasional UFO researcher, but the Hills apparently made no effort to seek publicity.
But on October 25th, 1965, a newspaper story changed everything: A front page story on the Boston Traveler asked "UFO Chiller: Did THEY Seize Couple?" Reporter John H. Lutrell of the Traveler had allegedly been given an audio tape recording of the lecture the Hills had made in Quincy Center in early 1963. Lutrell learned that the Hills had undergone hypnosis with Dr. Simon; he also obtained notes from confidential interviews the Hills had given to UFO investigators. On October 26th, the UPI picked up Lutrell's story, and the Hills earned international attention.
In 1966, writer John G. Fuller secured the cooperation of the Hills and Dr. Simon, and wrote the book The Interrupted Journey about the case. The book included a copy of Betty's sketch of the "star map". The book was a quick success, and went through several printings.
Barney died of a cerebral hemorrhage on February 25th, 1969, and Betty Hill died of cancer on October 17th, 2004.
Analyzing the star map

In 1968, Marjorie Fish of Oak Harbor, Ohio read Fuller's Interrupted Journey. She was an elementary school teacher and amateur astronomer. Intrigued by the "star map", Fish wondered if it might be "deciphered" to determine which star system the UFO came from. Assuming that one of the fifteen stars on the map must represent the Earth's sun, Fish constructed a 3-dimensional model of nearby sun-like stars using thread and beads, basing stellar distances on those published in the 1969 Gliese Star Catalog. Studying thousands of vantage points over several years, the only one that seemed to match the Hill map was from the viewpoint of the double star system of Zeta Reticuli. Therefore she concluded that the UFO might have come from a planet orbiting Zeta Reticuli. As a result of Fish's hypothesis, some have dubbed the Hills' account The Zeta Reticuli Incident.
Distance information needed to match three stars, forming the distinctive triangle Hill said she remembered, was not generally available until the 1969 Gliese Catalog came out.
Fish sent her analysis to Webb. Agreeing with her conclusions, Webb sent the map to Terence Dickinson, editor of the popular magazine Astronomy. Dickinson did not endorse Fish and Webb's conclusions, but for the first time in the journal's history, Astronomy invited comments and debate on a UFO report, starting with an opening article in the December 1974 issue. For about a year afterward, the opinions page of Astronomy carried arguments for and against Fish's star map. Notable was an argument made by Carl Sagan and Stephen Soter,[ arguing that the seeming "star map" was little more than a random alignment of chance points. In contrast, those more favorable to the map, such as Dr. David Saunders, a statistician who had been on the Condon UFO stuy, argued that unusual alignment of key sun-like stars in a plane centered around Zeta Reticuli (first described by Fish) was statistically improbable to have happened by chance from a random group of stars in our immediate neighborhood.
Skeptic Robert Sheaffer in an accompanying article said that a map devised by Charles W. Atterberg, about the same time as Fish, was an even better match to Hill's map and made more sense. The base stars, Epsilon Indi and Epsilon Eridani, plus the others were also closer to the sun than the Hill map. Fish counterargued that the base stars in the Atterberg map were considered much less likely to harbor life than Zeta Reticuli and the map lacked a consistent grouping of sun-like stars along the lined routes.
Berwyn Mountings Incident (AKA The Welsh Roswell) January 23rd 1974
Wednesday, 23rd January 1974 was just another winter's day in Bala and the nearby villages of Llandrillo and Llanderfel, and UFOs were the last thing on villagers' minds. But as night closed in, an event took place which was to change all that. Just after 8.30pm, locals were jolted by a large explosion, followed immediately by a terrible rumbling lasting four or five seconds. Furniture moved, buildings shook and animals voiced their terror. Terrified people shot to their windows or rushed into the streets to discover the cause of the disturbance. Many recall seeing huge lights streaking across the heavens and, looking toward the mountains, fingers of light projecting into the night sky.
Hundreds of people telephoned the emergency services, believing a disaster had taken place, and one nurse drove up on the mountain road with her two daughters to see what was going on. Once on the summit of the road, she halted, astonished at what she saw. There, high on the barren mountain was a glowing sphere. It was too far from the road to be reached on foot and she could only watch as the sphere pulsated, changing from red to yellow to white, while other white lights could be seen moving round it on the hillside. As the nurse drove back to her village, she was stopped by a group of police and soldiers who forcefully ordered her off the mount­ain, saying the road was being cordoned off and she should not, under any circumstances, divulge what she had seen.
Official reaction was quick – suspic­iously quick, some said – with police and military arriving within minutes, turning away other curious villagers from the mountain roads. In the following days, a large military presence appeared in the area. Roads remained closed and farmers complained they were forbidden from tending their stock. Clearly, something was being sought, or why else would military helicopters be criss-crossing the area and strangers combing the mountain­sides? Even more suspicious was the group of dark-suited officials who arrived in the area, asking questions about the events on the mountain. The incident attracted TV and radio coverage and The Times, Guardian, and the Welsh regional and local press carried detailed reports. Speculation was rife; one newspaper was certain that the event involved a plane crash of some kind, noting: "There is a report that an Army vehicle was seen coming down the mountain near Bala Lake with a large square box on the back of it and accompanied by outriders."
But the authorities refused to acknow­ledge that anything out of the ordinary had taken place. Meteorites and earth tremors were also suggested as being the cause, and indeed would have explained some of the mystery. But what could possibly explain the glowing sphere seen by the nurse, and the beams of light seen on the mountain? They were swiftly dismissed by the media as the villagers' imaginations, shooting stars, or even as people out poaching hares. Such natural phenomena were also unlikely to lead to the area being closed off by the Army.
Travis Walton Abduction November 5th 1975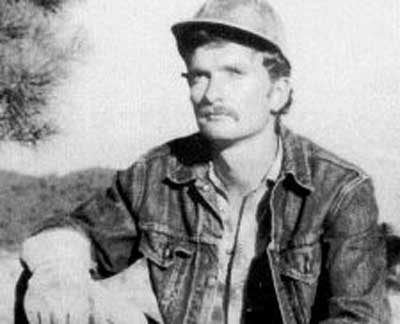 Travis Walton (born February 10, 1953) is an American logger who claims to have been abducted by a UFO on November 5, 1975, while working with a logging crew in the Apache-Sitgreaves National Forest in Arizona. Walton could not be found, but reappeared after five days of intensive searches.
The Walton case received considerable mainstream publicity and remains one of the best-known instances of alleged alien abduction. UFO historian Jerome Clark writes that "Few abduction reports have generated as much controversy" as the Walton case. It is furthermore one of the very few alien abduction cases with corroborative eyewitnesses, and one of few abduction cases where the time allegedly spent in the custody of aliens plays a rather minor role in the overall account.
The case began on Wednesday, November 5, 1975. Then 22 years old, Walton was employed by Mike Rogers, who had for some nine years contracted with the United States Forest Service for various duties. Rogers and Walton were best friends; Walton was dating Rogers' sister Dana, whom he would later marry. The other men on the crew were Ken Peterson, John Goulette, Steve Pierce, Allen Dallis and Dwayne Smith; they all lived in the small town of Snowflake, Arizona.
Rogers was hired to thin out scrub brush and other undergrowth from a large area (more than 1,200 acres) near Turkey Springs, Arizona. The job was the most lucrative contract Rogers had received from the Forest Service, but his crew was behind schedule. As a result, they were working long shifts to fulfill the contract, typically from 6 a.m. until sunset.
Discovery in the woods
A little after 6 p.m. on the evening of November 5, Rogers and his crew finished their work for the day and piled into Rogers' truck for the drive back to Snowflake.
The crew reported that shortly after beginning the drive home, they saw a bright light from behind an upcoming hill. They drove closer and said they saw a large silvery disc hovering above a clearing and shining brightly. It was around 8 feet (2.4 m) high and 20 feet (6.1 m) in diameter.
Rogers slowed the truck to a stop after which, they claim, Walton leaped from the truck and ran toward the disc. The other men said they shouted at Walton to come back but that he continued toward the disc. The men in the truck reported that Walton was nearly below the object when the disc began making noises similar to a very loud turbine. The disc then began to wobble from side to side, and Walton began to cautiously walk away from the object.
Jerome Clark wrote that just after Walton moved away from the disc, the others insist they saw a beam of blue-green light emanate from the disc and "strike Travis". Clark went on to write that Travis "rose a foot into the air, his arms and legs outstretched, and shot back stiffly some 10 feet (3.0 m), all the while caught in the glow of the light. His right shoulder hit the earth, and his body sprawled limply over the ground."
Rogers later said he was convinced Walton was dead, so he drove away very quickly over the rough road, afraid that the disc was chasing the truck. After about a quarter of a mile, the truck skidded off the road and Rogers stopped. After some discussion, the crew claim they decided to go back to the site and find Walton.
The disc was gone, and his co-workers said they searched for Walton for a half hour but found no sign of him.
The search
About 7:30 p.m., Peterson called police from Heber, Arizona, near Snowflake. Deputy Sheriff Chuck Ellison answered the telephone; Peterson initially reported only that one of a logging crew was missing. Ellison then met the crew at a shopping center. They related the tale to him — all the men distraught, two of them in tears — and though he was somewhat skeptical of the fantastic account, Ellison would later reflect "that if they were acting, they were awfully good at it."
Ellison notified his superior — Sheriff Marlin Gillespie — who told Ellison to keep the crew in Heber until he could arrive with Officer Ken Coplan to interview the men. In less than an hour, Gillespie and Coplan arrived, and they heard the tale from the crew. Rogers insisted on returning to the scene immediately to search for Walton, with tracking dogs, if possible. No dogs were available, but the police and some of the crew returned to the scene. Crew members Smith, Pierce and Goulette were too upset to be of much help in a search, so they elected to return to Snowflake and relate the bad news to friends and family.
Back at the scene, the law enforcement officers became suspicious of the story related by the crew, mainly because there was nothing in the way of physical evidence to back up the account. Though more police and volunteers arrived to search the area, they found not a trace of Walton. Winter nights could be bitterly cold in the mountains, and Walton had worn only jeans, a denim jacket and a shirt; police were worried that Walton could fall victim to hypothermia if he were lost.
Rogers and Sheriff Coplan went to tell the news to Walton's mother, Mary Walton Kellett, who lived on a small ranch at Bear Creek, some 10 miles (16 km) from Snowflake. Rogers told her what had happened, and she asked him to repeat the account. She then asked calmly if anyone other than the police and the eyewitnesses had heard the story. Coplan thought her reserved response was odd; this factor contributed to the growing suspicion among police that something other than a UFO was responsible for Walton's absence. On the other hand, Clark noted that Kellett was known as being generally guarded, and had furthermore raised six children largely by herself under often trying circumstances, which "had long since taught her to not to fly to pieces in the face of crises and tragedies. Yet in the days ahead, as events overwhelmed her, she would show emotion before friends, acquaintances and strangers alike — a fact that would go unmentioned in debunking treatments of the Walton episode."
About 3 a.m., Kellett telephoned Duane Walton, her second-oldest child. He quickly left his home in Glendale, Arizona, and drove to Snowflake.
By the morning of November 6, many officials and volunteers had scoured the area around the scene where Travis went missing. Still no trace of him was discovered, and police suspicions were growing that the UFO tale was concocted to cover up an accident or homicide. Saturday morning, Rogers and Duane Walton arrived at Sheriff Gillespie's office "explosively angry" because they had returned to the scene and found no police there. By that afternoon, police were searching for Travis with helicopters, horse-mounted officers, and jeeps.
Publicity
Additionally by Saturday, word of Walton's disappearance had spread internationally. News reporters, ufologists and the curious began travelling to Snowflake.
Among the visitors was Fred Sylvanus, a Phoenix UFO investigator, who interviewed Rogers and Duane Walton on Saturday, November 8. While repeatedly expressing worry for Travis's well-being (and criticizing what they saw as a halfhearted search effort by police), both men would make statements that would return to haunt them, when seized upon by critics.
On the recordings made by Sylvanus, Rogers noted that because of Travis's disappearance and the subsequent search, he would be unable to complete his contract with the Forest Service, and he hoped the search for his missing friend would mitigate the situation. Duane Walton reported he and Travis were quite interested in UFOs, and that some twelve years earlier, Duane had witnessed a UFO similar to the one witnessed by the logging crew. Duane reported that he and Travis had both decided that if they had a chance, they would get as close as possible to any UFO they might see. Duane also suggested that Travis would not be injured by the aliens, because "they don't harm people". Without intending to do so, Rogers and Duane Walton had laid "the foundations for an alternative interpretation of the case" with their statements. Travis would later report that he never had a "keen" interest in UFOs, even after his supposed abduction, but the tape recorded statement of his brother Duane, while Travis was still missing, runs contrary to Travis's statements.
Shortly after the Sylvanus interview, Snowflake town marshal Sanford Flake announced that the entire affair was a prank engineered by Duane and Travis. They had fooled the logging crew by lighting a balloon and "releasing it at the appropriate time". Flake's wife disagreed, suggesting that her husband's story was "just as farfetched as Duane Walton's".
In the meantime, Police officers were making repeated visits to Kellett's home; Duane once returned there to find her in tears as she was being questioned in her living room. Duane told the police to leave unless they had something new to relate, or to ask. Duane suggested that she speak with police only on the front porch, which would allow her to end the interview anytime she chose by simply going inside. She did exactly that after Marshal Flake arrived to relate a message, which Clark notes, contributed to the feeling among skeptics that Kellett was "hiding something. Or someone".
Duane also spoke with William H. Spaulding of Ground Saucer Watch. Spaulding suggested that if Travis ever returned, GSW could provide a doctor to examine him in confidence. Spaulding also suggested that if Travis returned, he should save his first urination after returning so it could be tested.
Polygraph
On Monday, November 10, all of Rogers' remaining crew took polygraph examinations administered by Gilson, an Arizona Department of Public Safety employee. His questions asked if any of the men caused harm to Travis (or knew who had caused Travis harm), if they knew where Travis's body was buried, and if they told the truth about seeing a UFO. The men all denied harming Travis (or knowing who had harmed him), denied knowing where his body was, and insisted they had indeed seen a UFO.
Excepting Dallis (who had not completed his exam, thus rendering it invalid), Gilson concluded that all the men were truthful, and the exam results were conclusive. Clark quotes from Gilson's official report: "These polygraph examinations prove that these five men did see some object they believed to be a UFO, and that Travis Walton was not injured or murdered by any of these men on that Wednesday". If the UFO was fake, Gilson thought, "five of these men had no prior knowledge of it".
Dallis later admitted that he'd concealed a criminal record to obtain his job with Rogers, and fear of this lie being exposed was why he'd walked out of the polygraph exam.
Following the polygraph tests, Sheriff Gillespie announced that he accepted the UFO story, saying "There's no doubt they're telling the truth."
Flake was unpersuaded; he once appeared at Kellett's home with a television camera crew, hoping to discover Travis hiding there.
In 2009, Walton was a participant on game show The Moment of Truth. When asked if he was abducted by aliens in 1975, he responded, "Yes", an answer which the polygraph examiner determined to be deceptive prior to taping. Walton, in response to this outcome, said that polygraphs are 97% accurate, even in the best of cases.
Walton's return
Just before midnight on Monday, November 10, Grant Neff, who was married to Travis' sister Alison, reportedly answered his home telephone in Taylor, Arizona, a few miles from Snowflake. The caller spoke in a weak voice, "This is Travis. I'm at a phone booth at the Heber gas station, and I need help. Come and get me."
Initially, Neff says he thought the caller was another prankster. However, before Neff could hang up the telephone, the caller spoke again, nearly hysterical and screaming, "It's me, Grant ... I'm hurt, and I need help badly. You come and get me." Neff reconsidered the caller's identity: his panic seemed genuine to Neff, so Neff and Duane Walton drove to the gas station.
They reported that they found Travis there, collapsed in the second of three telephone booths. He wore the same clothing as when he'd disappeared — still inadequate, the temperature was about 20 °F (−7 °C) — and he seemed thinner and to have not shaved in the time he was absent.
On the drive back to Snowflake, Travis seemed afraid, shaken, anxious and repeatedly mumbled on about beings with terrifying eyes. He thought he'd been gone only a few hours; when he learned he'd been absent nearly a week, he seemed stunned and stopped speaking at all.
Duane Walton said he decided not to reveal Travis' return immediately, out of concern for his brother's apparently fragile condition. However, by not notifying authorities, Duane would face charges that he was complicit in a cover-up of evidence he or Travis might not want police to see.
At his mother's house, Travis said he bathed and tried to eat, but was unable to keep from vomiting even after eating mild foods. As Spaulding had suggested, Duane told Travis to keep a sample of his first urination following his return.
Following a tip from a telephone company employee about 2:30 a.m., police learned that someone had called the Neff family from a pay phone at the Heber gas station. Gillespie sent two Deputies to dust the booths for fingerprints, but as near as the deputies could tell in the dark, none of the prints were Travis'. This fact would be noted by critics who thought the entire affair was a prank, while supporters argued that a fingerprint examination carried out in the dark, early morning hours by two sheriffs wielding flashlights was hardly ideal and by no means exhaustive.
The "medical" exam
Duane remembered Spaulding's promise of a confidential medical examination. Without having notified authorities of Travis's return, Duane drove him to Phoenix, Arizona, late Tuesday morning, where they were to meet with Dr. Lester Steward.
The Waltons reported that they were disappointed to learn that Steward was not a medical doctor as Spaulding had promised, but a hypnotherapist. Spaulding and Steward would later report that the Waltons had stayed with them for over two hours, while the Waltons insist they were at Steward's office for, at most, 45 minutes, most of which was occupied with trying to determine the nature of Steward's qualifications. The precise time spent with Steward would later become an issue in the case.
Travis' return makes the news
By Tuesday afternoon, word of Travis' return had leaked out to the public. Duane took a telephone call from Spaulding, and told Spaulding not to bother the family again. Clark writes that after this telephone call, "Spaulding became a sworn enemy in the case."
Among the other telephone calls after news of Travis' return was one from Coral Lorenzen of APRO, a civilian UFO research group. She promised Duane that she could arrange an examination for Travis by two medical doctors — general practitioner Joseph Saults and pediatrician Howard Kandell — at Duane's home. Duane agreed, and the exam began at about 3:30 p.m. Tuesday.
Clark writes that "between Lorenzen's call and the physicians' examination, another party would enter, and hugely complicate, the story". Lorenzen was telephoned by an employee of the National Enquirer, an American tabloid newspaper known for its sensationalistic tone. The Enquirer employee promised to finance APRO's investigation, in exchange for APRO's "cooperation and access to the Waltons". Since the Enquirer's financial resources were far greater than APRO's, Lorenzen agreed to the arrangement.
The medical examination revealed that Travis was essentially in good health, but they did note two unusual features:
A small red spot at the crease of Travis' right elbow that was consistent with a hypodermic injection, but the doctors also noted that the spot was not near a vein.

Analysis of Travis' urine revealed a lack of ketones. This was unusual, given that if Travis had indeed been gone for five days with little or no food as he insisted (and as his weight loss suggested), his body should have begun breaking down fats in order to survive, and this should have led to very high levels of ketone in his urine. Critics would argue this inconsistency is evidence against Travis's story.
Travis would later speculate that he'd gotten the mark on his elbow in the course of his logging work; critics would speculate that the mark showed where Travis (or someone else) had injected drugs into his system. Clark dismisses this possibility of drugging as most unlikely, given that the medical doctors found no sign of it, but he also notes that perhaps "more difficult to explain is the absence of bruises, which one might expect in the wake of Travis's alleged beam-driven collision with the ground". Travis later noted that he'd been an amateur boxer and had rarely bruised even after rough matches; he also noted that in his logging duties, he and others had taken some painful bumps and falls which had not left significant marks.
When Sheriff Gillespie learned of Travis's return through the mass media, he was angered. Gillespie thought that he had demonstrated his belief in the UFO story with his announcement following the polygraph exams. However, Duane was still bitter over what he saw as the lackadaisical search effort during Travis's absence.
Travis then told Gillespie what had happened during the five days he'd been gone. It was the first time he'd told anyone the tale, other than his family or close friends.
Travis in the UFO
In his survey of UFO abduction literature, Terry Matheson writes that "Walton's experience stands out by virtue of its not being particularly bizarre as far as abduction accounts go."
Travis reported that after approaching the UFO near the work site, the last thing he remembered was being struck by the beam of light. When he woke, Travis said he was on a reclined bed. A bright light shone above him, and the air was heavy and wet. He was in pain, and had some trouble breathing, but his first thought was that he was in a normal hospital.
As his faculties returned, Travis says he realized he was surrounded by three figures, each wearing a sort of orange jumpsuit. The figures were not human. Travis described the beings as typical of the so-called Greys which feature in some abduction accounts: "shorter than five feet, and they had bald heads, no hair. Their heads were domed, very large. They looked like fetuses They had large eyes — enormous eyes — almost all brown, without much white in them. The creepiest thing about them were those eyes ... they just stared through me." Their ears, noses and mouths "seemed real small, maybe just because their eyes were so huge." Travis related that he feared for his safety and got to his feet, and shouted at the creatures to stay away. He grabbed a glasslike cylinder from a nearby shelf and tried to break its tip to create a makeshift knife, but found the object unbreakable, so instead waved it at the creatures as a weapon. The trio of creatures left him in the room.
Matheson finds this portion of the narrative troublingly inconsistent, noting that "despite his 'weakened' condition, 'aching body' and 'splitting pain in his skull', maladies for which no cause is suggested, he has no trouble jumping up from his operating table, seizing a conveniently placed glasslike rod, and, assuming a karate 'fighting stance', frightened them with this display of macho aggression, enough at least to cause them to run away."
Travis then left the "exam room" via a hallway, which led to a spherical room with only a high-backed chair placed in the center of the room. Though he was afraid there might be someone seated in the chair, Travis says he walked towards it. As he did, lights began to appear in the room. The chair was empty, so Travis says he sat in it. When he did, the room was filled with lights, similar to stars projected on a round planetarium ceiling.
The chair was equipped on the left arm with a single short thick lever with an oddly shaped molded handle atop some dark brown material. On the right arm, there was an illuminated, lime-green screen about five inches square with black lines intersected at all angles.
When Travis pushed the lever, he reported that the stars rotated around him slowly. When he released the lever, the stars remained at their new position. He decided to stop manipulating the lever, since he had no idea what it might do.
He left the chair, and the stars disappeared. Travis thought he had seen a rectangular outline on the rounded wall — perhaps a door — and went to look for it.
Just then, Travis heard a sound behind him. He turned, expecting more of the short, large eyed creatures, but was pleasantly surprised to see a tall human figure wearing blue coveralls with a glassy helmet. At the time, Travis said, he did not realize how odd the man's eyes were: larger than normal, and a bright gold color.
Travis says he then asked the man a number of questions, but the man only grinned and motioned for Travis to follow him. Travis also said that because of the man's helmet he might have been unable to hear him, so he followed the man down a hallway which led to a door and a steep ramp down to a large room Travis described as similar to an aircraft hangar. Travis says he realized he'd just left a disc-shaped craft similar to the one he'd seen in the forest just before he'd been struck by the bluish light, but the craft was perhaps twice as large.
In the hangar-like room, Travis reported seeing other disc-shaped craft. The man led him to another room, containing three more humans — a woman and two men — resembling the helmeted man. These people did not wear helmets, so Travis says he began asking questions of them. They responded with the same dull grin, and led him by his arm to a small table.
Once he was seated on the table, Travis says he realized the woman held a device like an oxygen mask, which she placed on his face. Before he could fight back, Travis says he passed out.
When he woke again, Travis says he was outside the gas station in Heber, Arizona. One of the disc-shaped craft was hovering just above the highway. After a moment, the craft shot away, and Travis stumbled to the telephones and called his brother-in-law, Grant Neff. He thought that only a few hours had passed.
The Rendlesham Forest Incident December 26th 1980
Around 3 a.m. on 26th December 1980 strange lights were reported by a security patrol near the East Gate of RAF Woodbridge apparently descending into nearby Rendlesham Forest. Servicemen initially thought it was a downed aircraft but, upon entering the forest to investigate, they saw strange lights moving through the trees, as well as a bright light from an unidentified object. One of the servicemen, Sgt. Jim Penniston, later claimed to have encountered a "craft of unknown origin" and to have made detailed notes of its features, touched its "warm" surface, and copied the numerous symbols on its body. The object allegedly flew away after their brief encounter. Penniston also claimed to have seen triangular landing gear on the object, leaving three impressions in the ground that were visible the next day. While undergoing regression hypnosis in 1984 Penniston subsequently claimed that the "craft" he encountered had come from our future, and was occupied by time travellers, not extraterrestrials. An alleged copy of Sgt. Penniston's report of the incident contains no mention of physically encountering an unknown craft, nor of interacting with it. This report and associated sketches are neither signed nor dated, nor are they representative of AF Form 1169, Statement of Witness.[
Shortly after 4 a.m. local police were called to the scene but reported that the only lights they could see were those from the Orford Ness lighthouse, some miles away on the coast. Some reports claim that local farmyard animals had been behaving in a state of fear and panic.
After daybreak on the morning of 26th December, servicemen returned to a small clearing near the eastern edge of the forest and found three small impressions in a triangular pattern, as well as burn marks and broken branches on nearby trees. Plaster casts of the imprints were taken and have been shown in television documentaries. At 10.30 a.m. the local police were called out again, this time to see the impressions on the ground, which they thought could have been made by an animal.
28th December 1980
The servicemen returned to the site again in the early hours of 28th December 1980 with radiation detectors, although the significance of the readings they obtained is disputed. The deputy base commander Lt Col Charles I. Halt investigated this sighting personally and recorded the events on a micro-cassette recorder (see "The Halt Tape", below). The site investigated by Halt was near the eastern edge of the forest, at approximately
It was during this investigation that a flashing light was seen across the field to the east, almost in line with a farmhouse. The Orford Ness lighthouse is visible further to the east in the same line of sight.
Later, starlike lights were seen in the sky to the north and south, the brightest of which seemed to beam down a stream of light from time to time.
There are claims that the incident was videoed by the USAF; but, if so, the resulting tape has not been made public.
Primary and secondary sources
The first public report of the incident was published in the tabloid newspaper News of the World, on 2nd October 1983, beneath the sensational headline UFO lands in Suffolk – and that's official. The story was based on an account by a former US airman, using the pseudonym Art Wallace (supposedly to protect himself against retribution from the USAF), although his real name was Larry Warren.
The Halt memo
The first piece of primary evidence to be made available to the public was a memorandum written by the deputy base commander, Lt. Col. Charles I. Halt, to the Ministry of Defence (MoD). Known as the "Halt memo", this was made available publicly in the United States under the US Freedom of Information Act in 1983. The memorandum (left), was dated "13th Jan 81" and headed "Unexplained Lights". The two-week delay between the incident and the report might account for errors in dates and times given. The memo was not classified in any way. Dr David Clarke has investigated the background to this memo and the reaction to it at the Ministry of Defence. His interviews with the personnel involved confirmed the cursory nature of the investigation made by the MoD, and failed to find any evidence for any other reports on the incident made by the USAF or UK apart from the Halt memo.
Statements from eyewitnesses on 26th December
The Scottish researcher James Easton succeeded in obtaining the original witness statements made for Col. Halt by Fred A. Buran, 81st Security Police Squadron, Airman First Class John Burroughs, 81st LE, Airman Edward N. Cabansag, 81st Security Police Squadron, Master-Sergeant J. D. Chandler, 81st Security Police Squadron and Staff-Sergeant Jim Penniston, 81st Security Police Squadron. These documents are now in the public domain and scans of them are available on Ian Ridpath's website.
These documents describe the sightings of strange lights. Penniston, for instance, states that "directly to the east [of East Gate] about 11⁄2 miles [2.4km] in a large wooded area...a large yellow glowing light was emitting above the trees. In the center of the lighted area directly in the center ground level, there was a red light blinking on and off 5 to 10 sec intervals. And a blue light that was being for the most part steady." Burroughs, Penniston and Cabansag drove into the forest in search of the source of the lights.
They heard strange noises, too. Burroughs reported a noise "like a woman was screaming" and also that "you could hear the farm animals making a lot of noises". Halt heard the same noises two nights later. In a CNN interview in January 2008 he said: "The livestock around the barn seemed to be going crazy". Such noise could also have been made by Muntjac deer in the forest, which are known for their loud, shrill bark when alarmed. Cabansag said: "We figured the lights were coming from past the forest since nothing was visible when we passed through the woody forest. We would see a glowing near the beacon light, but as we got closer we found it to be a lit-up farmhouse. We got to a vantage point where we could determine that what we were chasing was only a beacon light off in the distance." Burroughs' statement also states that "We could see a beacon going around so we went towards it. We followed it for about two miles [3 km] before we could [see] it was coming from a light house."
Penniston's statement is the only one that positively identifies a mechanical object as the source of the lights. He states that he was within 160 feet (50 m) of the object and "it was defidently mechaniclal in nature". Penniston has subsequently claimed that, contrary to his statement at the time, he actually encountered a landed craft in the forest which he circled, touched and made notes of for 45 minutes, although there is no corroborating evidence of this from other witnesses. Penniston has shown on television a notebook in which he claims to have made real-time notes and sketches of the object. The notebook is headed with the date 27th December and the time 12:20 (00:20 GMT), which does not accord with the date and time given by the other witnesses for the incident. Penniston claims that he saw the object at a different landing site from the one investigated by Halt, much closer to RAF Woodbridge. This is inconsistent with his initial assessment that the light lay a mile and a half from East Gate.
The witnesses were unnerved by their experience and believed that they had witnessed something, as Buran expresses it, "out of the realm of explanation".
The Halt Tape
Also, in 1984, a copy of what became known as the "Halt Tape" fell into the hands of researchers. Unfortunately, because of static electricity and the fact that the tape had been dubbed on an old machine, much of its background conversations could not be discerned. The US Sci Fi Channel acquired the original recording, which documents Halt and his patrol investigating a UFO sighting in Rendlesham Forest in December 1980. This tape not only reveals much more of the background conversations but features names that could not be heard on the poor-quality 1984 dub. The tape has also been transcribed by researcher Ian Ridpath, who includes a link to an audio download.
The Halt Affidavit
In June 2010, retired Colonel Charles Halt signed a notarized affidavit, in which he again summarized what had happened, then stated he believed the event to be extraterrestrial and it had been covered up by both the US and UK:
"I believe the objects that I saw at close quarter were extraterrestrial in origin and that the security services of both the United States and the United Kingdom have attempted—both then and now—to subvert the significance of what occurred at Rendlesham Forest and RAF Bentwaters by the use of well-practiced methods of disinformation."
Halt also dismissed claims that he and his men had confused a UFO with a lighthouse beam:
"While in Rendlesham Forest, our security team observed a light that looked like a large eye, red in color, moving through the trees. After a few minutes this object began dripping something that looked like molten metal. A short while later it broke into several smaller, white-colored objects which flew away in all directions. Claims by skeptics that this was merely a sweeping beam from a distant lighthouse are unfounded; we could see the unknown light and the lighthouse simultaneously. The latter was 35 to 40-degrees off where all of this was happening." [
Contradictions between this affidavit and the facts as recorded at the time in Halt's memo and tape recording have been pointed out.[
In 2010 base commander Colonel Ted Conrad provided a statement about the incident to Dr David Clarke of Sheffield Hallam University, UFO adviser to the UK National Archives. Conrad stated that "We saw nothing that resembled Lieutenant Colonel Halt's descriptions either in the sky or on the ground." and that "We had people in position to validate Halt's narrative, but none of them could." In an interview, Conrad, criticized Halt for the claims in his affidavit, saying "he should be ashamed and embarrassed by his allegation that his country and England both conspired to deceive their citizens over this issue. He knows better." Conrad also disputed the testimony of Sergeant Jim Penniston, who claimed to have touched an alien spacecraft; he said that he interviewed Penniston at the time and he had not mentioned any such occurrence. Conrad also suggested that the entire incident might have been a hoax.
Suffolk Police log
Suffolk Constabulary have a record, dated 26th December 1980, of a report from the law Enforcement Desk of RAF Woodbridge, stating that "We have a sighting of some unusual lights in the sky, we have sent some unarmed troops to investigate, we are terming it as a U.F.O. at present". The police investigated this report and the result is recorded as follows: "Air Traffic Control West Drayton checked. No knowledge of aircraft. Reports received of aerial phenomena over southern England during the night. Only lights visible this area was from Orford light house. Search made of area – negative." Skeptic Ian Ridpath has speculated the reported "aerial phenomena" refers to the re-entry of the Soviet Cosmos 749 satellite's final stage rocket, which was widely seen over southern England shortly after 9 p.m. on the evening of 25th December. A letter in the police file notes that one of the PCs returned to the site in daylight in case he had missed something. "There was nothing to be seen and he remains unconvinced that the occurrence was genuine. The immediate area was swept by powerful light beams from a landing beacon at RAF Bentwaters and the Orfordness lighthouse. I know from personal experience that at night, in certain weather and cloud conditions, these beams were very pronounced and certainly caused strange visual effects." A scan of the report is available at Suffolk Constabulary's website.
Other military installation involvement
Some researchers have claimed that personnel from Porton Down visited Rendlesham in 1980 after the Rendlesham Forest Incident. No evidence has been presented and there seems to be confusion with other alleged UFO incidents.
Admiral Lord Hill-Norton, the former Chief of the UK Defence Staff, argued that an incident like this at a nuclear weapons base was necessarily of national security interest. As a member of the House of Lords, Lord Hill-Norton asked Her Majesty's Government: "Whether they are aware of any involvement by Special Branch in the investigation of the 1980 Rendlesham Forest Incident". Baroness Symons of Vernham Dean gave the reply that "Special Branch officers may have been aware of the incident but would not have shown any interest unless there was evidence of a potential threat to national security. No such interest appears to have been shown."] Hill-Norton commented, "Either large numbers of people were hallucinating, and for an American Air Force nuclear base this is extremely dangerous, or what they say happened did happen, and in either of those circumstances there can only be one answer, and that is that it was of extreme defence interest." In 2001 the British Government released its file on the incident to researchers following a request from Dr David Clarke under the Code of Practice for Access to Government Documents, a precursor to the Freedom of Information Act. The Ministry of Defence has since made these documents available online. The United States continues to remain silent despite the SciFi Channel-sponsored investigation entitled "UFO Invasion at Rendlesham", the History Channel's "UFO Files – Britain's Roswell" and Coalition for Freedom of Information inquiries.
The Belgian UFO Wave 1990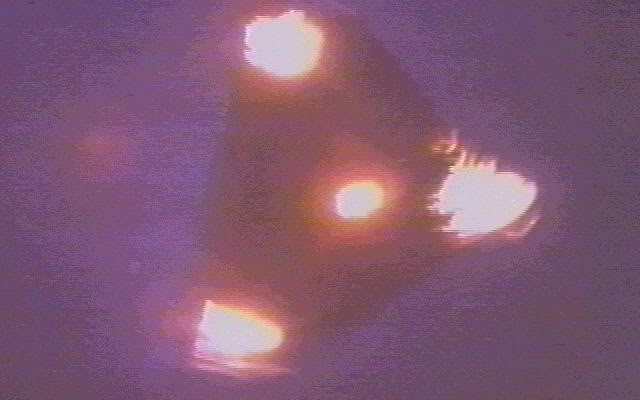 The Belgian UFO wave peaked with the events of the night of 30/31 March 1990. On that night unknown objects were tracked on radar, photographed, and were sighted by an estimated 13,500 people on the ground – 2,600 of whom filed written statements describing in detail what they had seen. Following the incident the Belgian air force released a report detailing the events of that night.
At around 23:00 on 30 March the supervisor for the Control Reporting Center (CRC) at Glons received reports that three unusual lights were seen moving towards Thorembais-Gembloux which lies to the South-East of Brussels. The lights were reported to be brighter than stars, changing color between red, green and yellow, and appeared to be fixed at the vertices of an equilateral triangle. At this point Glons CRC requested the Wavre gendarmerie send a patrol to confirm the sighting.
Approximately 10 minutes later a second set of lights was sighted moving towards the first triangle. By around 23:30 the Wavre gendarmerie had confirmed the initial sightings and Glons CRC had been able to observe the phenomenon on radar. During this time the second set of lights, after some erratic manoeuvres, had also formed themselves into a smaller triangle. After tracking the targets and after receiving a second radar confirmation from the Traffic Center Control at Semmerzake, Glons CRC gave the order to scramble two F-16 fighters from Beauvechain Air Base shortly before midnight. Throughout this time the phenomenon was still clearly visible from the ground, with witnesses describing the whole formation as maintaining their relative positions while moving slowly across the sky. Witnesses also reported two dimmer lights towards the municipality of Eghezee displaying similar erratic movements to the second set of lights.
Over the next hour the two scrambled F-16s attempted nine separate interceptions of the targets. On three occasions they managed to obtain a radar lock for a few seconds but each time the targets changed position and speed so rapidly that the lock was broken. During the first radar lock, the target accelerated from 240 km/h to over 1,770 km/h while changing altitude from 2,700 m to 1,500 m, then up to 3,350 m before descending to almost ground level – the first descent of more than 900 m taking less than two seconds. Similar manoeuvres were observed during both subsequent radar locks. On no occasion were the F-16 pilots able to make visual contact with the targets and at no point, despite the speeds involved, was there any indication of a sonic boom. Moreover, narrator Robert Stack added in an episode of Unsolved Mysteries, the sudden changes in acceleration and deceleration would have been fatal to one or more human pilots.
During this time, ground witnesses broadly corroborate the information obtained by radar. They described seeing the smaller triangle completely disappear from sight at one point, while the larger triangle moved upwards very rapidly as the F-16s flew past. After 00:30 radar contact became much more sporadic and the final confirmed lock took place at 00:40. This final lock was once again broken by an acceleration from around 160 km/h to 1,120 km/h after which the radar of the F-16s and those at Glons and Semmerzake all lost contact. Following several further unconfirmed contacts the F-16s eventually returned to base shortly after 01:00.
The final details of the sighting were provided by the members of the Wavre gendarmerie who had been sent to confirm the original report. They describe four lights now being arranged in a square formation, all making short jerky movements, before gradually losing their luminosity and disappearing in four separate directions at around 01:30.
The Phoenix Lights 1997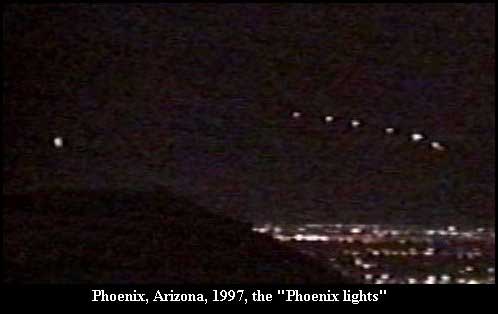 On March 13th, 1997, one of the most massively witnessed UFO sightings occurred in the skies over and around Phoenix, Arizona. Witnessed by thousands of people and photographed by hundreds, there is no doubt that something was seen over the skies of Phoenix that night. The question remains - what did they see?
The strange lights were sighted during a three hour period between 7:30pm and 10:30pm on March 13th. They covered a 300 mile corridor from the Nevada line through Phoenix to the Northern edge of Tucson. Since thousands of witnesses called local Air Force bases, news stations, and UFO organizations with their reports, we are able to glean the exact route that the mysterious object took.
Initial Reports
One of the first reports came from Henderson, Nevada from a former Police Officer and his family. Witnesses noted the object moving in a southeast direction over their city. The object was described as "V" shaped, somewhat like a boomerang or wedge in shape. The object then passed over Paulden, Arizona. At this point the "V" shaped array of lights were described as being blue-white to yellow-white in color.
All witnesses agreed on several common factors - the object was amazingly huge, triangular or "V" shaped, had several bright lights on it, and it moved silently through the nighttime skies. Some stated that the object seemed to "glide" through the air and that they distinctly had "strained their ears" trying to detect a sound emanating from the object. It was perfectly silent.
Some indicated the object was so large you could have landed a 747 on its back. Measurements from 900 feet to 2 miles in width and over a mile in length were reported. The estimated altitude of the object ranged (at various points in its trek) from 1,000 to 10,500 feet.
Over Prescott Valley
From Paulden, the object moved to Prescott Valley, Arizona. In a little over a minute the object had moved thirty miles to the south. In Prescott Valley, witnesses noted that the object was seen as a single craft, equal in size to five 747s flying in a perfectly locked formation and moving silently through the sky. Reports from Prescott Valley cast doubt on the theories that the object may have been several planes flying in formation or flares fired by the Air Force. Prescott Valley sighters noted that the object passed directly overhead and that the object was definitely solid because it blocked out much of the starry sky as it passed over. It's interesting to note too that several sighters in Prescott Valley actually witnessed the object through binoculars. The National UFO Reporting Center received the following report:
[He was] standing outside with his wife and sons in Prescott Valley, when they noticed a cluster of lights to in the west-northwest of their position. The lights formed a triangular pattern, but all of them appeared to be red, with the exception of the light at the nose of the object, which was distinctly white. The object, or objects, which had been observed for approximately 2-3 minutes with binoculars, then passed directly overhead the observers, they were seen to "bank to the right," and they then disappeared in the night sky to the southeast of Prescott Valley
The object was next sighted 10 miles south over the town of Dewey, Arizona. It was here that witnesses reported seeing a huge object or formation of lights moving silently about 1000 feet above the ground.
Five adults and youth were driving north on Highway 69 to an appointment in Prescott, when they witnessed a very large cluster of lights, which formed a "V" shape in the sky. The driver pulled off the road into a grocery store parking lot, and all the occupants got out of their car in order to get a better look at the object. By this time, the object was directly above them, where it appeared to hover for several minutes.
Calls continued to arrive from Chino Valley, Tempe, and Glendale. Then the object made its infamous appearance over Phoenix, Arizona...
Object Arrives in Phoenix
In Phoenix the object was said to hover for 4-5 minutes over the intersection of Indian School Road and 7th Avenue. It was at this point that the many widely publicized videos and photographs were taken. One amateur astronomer in Phoenix noted that he felt the objects were a formation of planes and nothing at all out of the ordinary. But Bill Greiner, a cement driver hauling a load down a mountain North of Phoenix, felt differently. He stated:
I'll never be the same. Before this, if anybody had told me they saw a UFO, I would've said, 'Yeah, and I believe in the tooth fairy'. Now I've got a whole new view. I may be just a dumb truck driver, but I've seen something that don't belong here."
After leaving Phoenix, the object continued on its southeasterly path towards Tucson, Arizona following Interstate 10 at a slow rate of speed. During this trek the lights were reported as being amber in color. One car on the Interstate noted that the huge object hovered over their car, which was moving at 65 MPH. Next the object was reported over Oracle where it was described as having a reddish-orange color. Witnesses said the object split up and each of the bright lights moved in a separate direction along the edges of the Tucson area. The last report came from the Kingston area where a man stopped his vehicle and called from a payphone to report the incident. "[The] young man, enroute to Los Angeles, called from a phone booth to report having seen a large and bizarre cluster of lights moving slowly in the northern sky".
Air Patrol
As persons on the ground were reporting the strange array of lights, persons in the air were seeing a similar phenomena. The object passed over the Sky Harbor Airport where air traffic controllers spotted the object but were puzzled as to why it did not show up on their radar. At least one commercial pilot also saw the objects from the air as he passed over them. Radioing the Sky Harbor Airport, the American West pilot requested information on what "those nine lights were".
The Air Force Responds
Meanwhile, as usually seems to be the case in these types of unusual airborne events, conflicting information arrived from the local Air Force authorities. Witnesses who called the Luke Air Force Base with reports noted that the female operator stated that they were being flooded with calls. Days later, on March 14th, 1997, the same Luke Air Force personnel were quoted as stating they had received no calls concerning the matter. This statements was straightforwardly disproved by a local UFO researcher who produced phone records showing that he himself had called the base to report the lights on more than one occasion that night.
The National UFO Reporting Center also noted that reports were pouring in from the Phoenix area. One man, who claimed he was a airman at the Luke Air Force Base, stated that the US Air Force had launched 2 F-15 fighters and that one of the F-15s had intercepted the object over Phoenix. Although cursory research on the inventory of F-15s at Luke Air Force base has proved inconclusive, this account was further collaborated by a truck driver who was delivering materials to a plant near the Luke base. He stated that he had watched the UFOs intently as he drove down Interstate 17. Upon arriving at his destination, he climbed on top of a pile of materials while the crew unloaded his truck. He stated that he was observing the strange amber lights when suddenly 2 F-16s (not F-15s) followed by a third "blasted out of Luke with their afterburners on full". He detailed how the planes banked sharply and headed straight towards the UFO which then shot straight upwards and disappeared in an instant. He noted that the aircraft passed right through the spot where the object had been. The man's story was somewhat collaborated by a UFO researcher's Freedom of Information Act request (FOIA) to the US Air Force. The Air Force admitted that they had indeed dispatched F-16s at that time but noted that the aircraft were on a "routine training mission" and had no involvement with the strange lights being reported all over the area.
Official Explanation
After denying that they had heard of the incident, the Air Force released their official explanation of the sightings - military flares. They stated that military flares had been released from a USAF A-10 over the Gila Bend Bombing Range (located 60-80 miles southwest of Phoenix, on the other side of the bordering mountain range). They explained that the A-10 had released the flares at about 6,000 feet and that the flares had ignited at around 3,000 feet. They completely burnt out at around 500 feet.
The Air Force stated that the A-10s were on a special training mission.
They left David-Monthan AFB in Tucson at 8:15pm and returned at 10:00pm. They were authorized to use the Goldwater range which is near Gila Bend. After their flare exercise they were returning when they realized they had more flares on board. Base regulations forbid plans from landing with flares so the were jettisoned as the planes approached the base.
Researchers Counter
UFO researchers scratched their heads over the Air Force's explanation. Although highly unlikely, it may have explained the reports of lights over Phoenix, but it still left many unanswered questions. They quickly pointed out that the time the Air Force gave for the flares jettison was 42 minutes after the reported Phoenix sightings. They also noted that the flares explanation did nothing to explain the sights all over the Nevada and Arizona surrounding areas. How could the flares have been seen traveling over such a wide range of areas by so many people who claimed flatly that the object had passed directly over them.
One witness, who lives under the customary A-10 flight path, noted that no A-10s landed or took off around 10:00PM that night. He knew this because he was in the habit of going outside whenever he heard the A-10s (to watch them land). He states that he definitely heard no A-10s landing during the time of the sightings. UFO researchers have filed FOIA requests with the US Air Force, requesting logs of departures and arrivals of A-10s during the night of March 13 - the USAF has yet to comply with their requests.
Mike Fortson of Changler, Arizona further argues against the USAF flares explanation. Mike, a local witness of the extraordinary occurrence, states that he saw the object fly directly overhead and that he plainly saw a "solid object". He claimed that a 737 disappeared as it passed above the object (the American West airline?). Mike recounted that the object was over a mile wide and flew about 30-35MPH at around 1500 to 2000 feet above the ground.
Furthermore, the flare explanation does not coincide with the calculated speed of the moving object. The National UFO Reporting Centers notes that:
The object apparently was capable of very rapid flight, probably even supersonic flight, although few witnesses reported any sound emanating from it. The object was reported heading generally to the southeast over Henderson, NV, at 1855 hrs. (Pacific), and was next reported heading to the south in the vicinity of Paulden, AZ, approximately 22 minutes later at 2017 hrs. (Mountain). Within approximately one minute of the sighting in Paulden, the object was reported from the vicinity of Prescott Valley, AZ, roughly 30 miles to the south. The object then appeared over Phoenix, where it is reported to have hovered for 4-5 minutes in the vicinity of the intersection of Indian School Road and 7th Avenue.
Some, more radical persons, theorized that the objects were man-made and possibly built from crashed UFO technology. They explain how such a test flight would be highly beneficial to the US government in testing the reaction of the public. Phoenix, being a large city but not so densely populated, would make a excellent choice of locations to test fly the object over. Any public problems that could have occurred in Phoenix would have been much easier to control than larger and more populated areas such as Los Angeles or New York.